---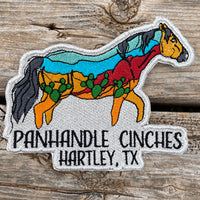 Embroidery Patch #006
Panhandle Cinches Embroidered Patch made with polyester thread. 
Measures: 4.3" tall x 5.1" wide
Please allow up to 2 weeks for shipping. 
Application Instructions:
These patches can be ironed on or sewn on. 
Sewing them on is the most secure & is the recommended method.
If adding this patch to a brand new garment, be sure to wash the clothes first before stitching or ironing on the patch. This will get the shirt pre-shrunk and ready for application. The patch will not shrink. 
Ironing Instructions:
Set your household iron to "polyester". Let iron heat up. 
The "cotton" setting will be TOO HOT and will MELT the patch. 
Bend the patch to release the paper backing and place patch on your garment in desired location. Place a paper towel or thin cloth over the patch (so that the adhesive does not stick to your iron). Place the hot iron over the patch and hold for 15-20 seconds. Remove the paper towel and cloth. Let the patch cool completely. Once cool, turn over and do the same to the other side (no need for paper towel on the back side). The glue/ adhesive is heat activated. If you leave it in the dryer too long or wash/ dry it frequently, the glue will eventually break down. It is best to stitch it on for extra durability.